In order to modernise the UK's telecoms offerings, BT has announced that they will switch off all traditional phone lines by 2025. They will be moving all customers – both personal and business – from analogue and digital to IP. By 2025, every BT phone line in the UK will be IP.
While this date may seem in the very distant future, it's important that businesses take careful steps to prepare for this changeover. Your business will need to review everything connected to your phone lines including fax machines, door entry systems, alarms, lift systems and CCTV.
Below is an explainer on what exactly will be happening and how to best prepare for the switch off.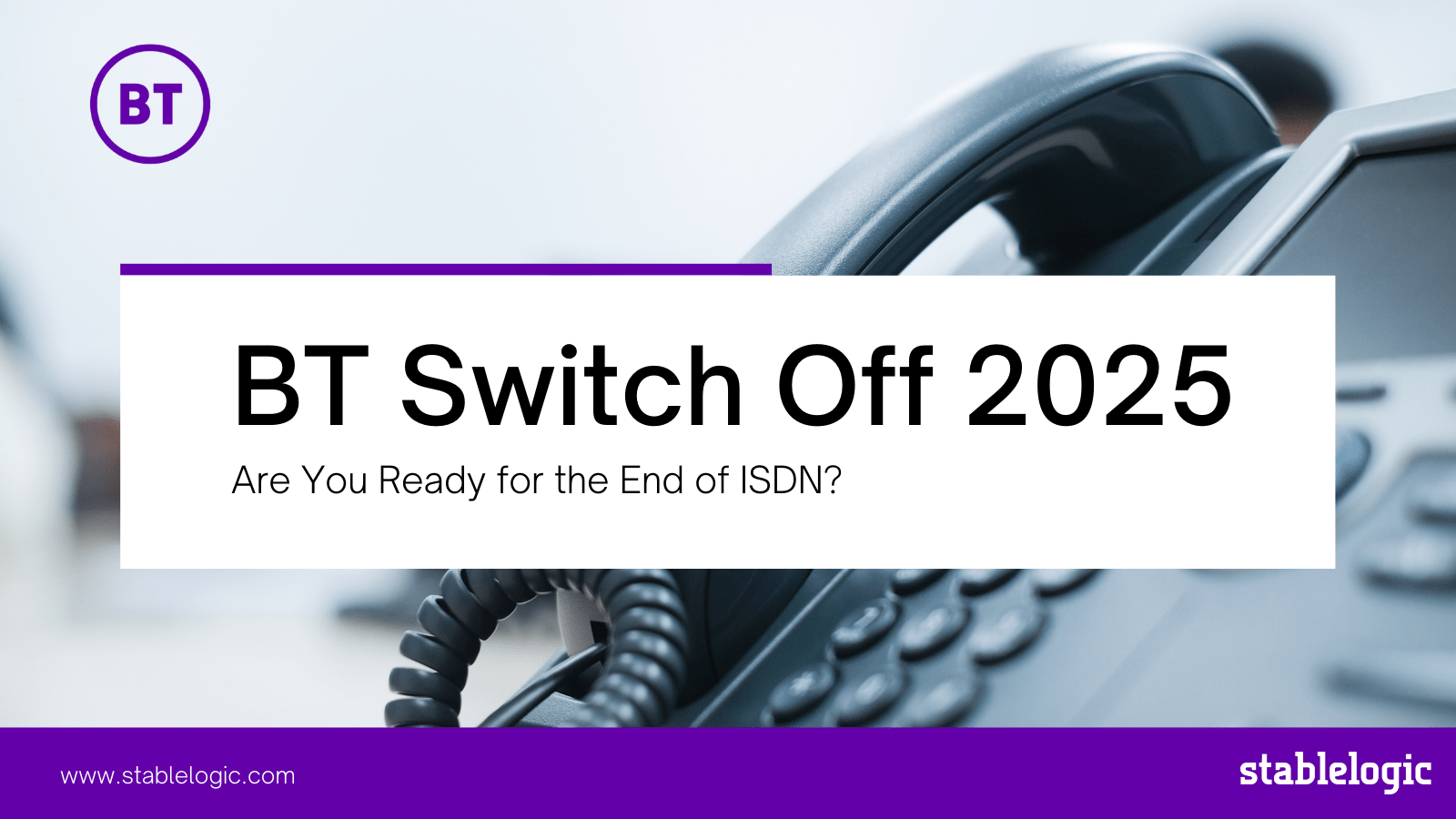 What is BT switching off?
BT is switching off two types of lines – Analogue PSTN & ISDN. Analogue PSTN (the Public Switched Telephone Network), is made of copper wires that can carry phone calls and send faxes. It's the same technology that was developed when the telephone was invented in the 1800's. Analogue is very extensively used for home phone lines, lift lines, security alarms and fax machines.
BT estimate there are 14 million analogue lines in use today – all of which will need to be transitioned to IP.
ISDN, otherwise known as the Integrated Services Digital Network, also often runs on copper wires, and can carry voice and data, but is usually used for business telephone lines. But ISDN operates on TDM digital technology which is also considered obsolete.
When is the switch off happening?
The switch off process will be happening in two stages. Beginning in September 2023, BT will stop offering PSTN or ISDN services, so if you have a system that uses either of those networks, you won't be able to add lines to it.
Between April and December 2025, anyone still using the old networks will be required to change to a different one or be disconnected.
BT have started this process in some pilot areas, with plans to stop selling copper based services in 297 exchange areas (covering 2.9 million premises) by April 2022.
Will I have to change my business's phone, fax, lift lines, alarms lines or CCTV system?
If they're using an older system then yes, you will need to update them or replace them. Exactly what changes you'll have to make depends on exactly what you're currently using and how.
The list of impacted services includes:
Alarm Lines
Building management systems
Business Telephone Systems
CCTV
Connections to PA systems
Door Entry Systems
Emergency Alert Pendants
EPOS / credit card machines
Faxes
Payphones
Telemetry services
Traffic Light Systems
How can StableLogic help you with the switch?
We can help you switch to a solution ahead of 2025, sparing you from price increases and any last minute rush. Switching your system over within good time ensures that you are prepared and can benefit from modern systems. As independent consultants with over 25 years' experience, we will be with you at every step to ensure you are making the right decisions for your organisation.
Key steps to take now include:
Audit current services
Develop a migration and upgrade plan
Budget
Commence the migration – don't leave it to the last minute