To mark the end of another financial year, StableLogic held our annual review, StableLogic IMPACT 2023.
During this event, we reflected on the objectives of the previous year, measured our successes and set new goals for the upcoming financial year. Our UK-based team joined the event in person, and the Denmark, India, and Pakistan offices joined via livestream. This signifies the first StableLogic event that unified our entire global team since the launch of each international office.
2023 / 2024 Objectives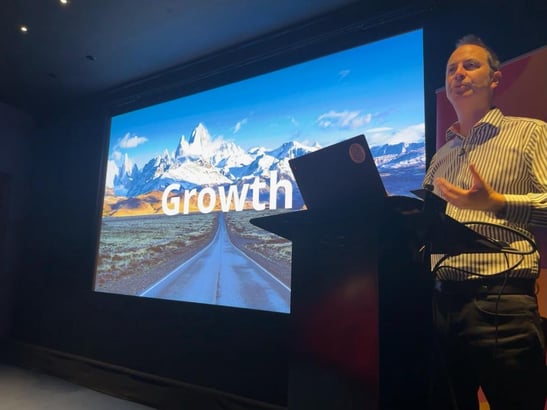 Our new goals for the upcoming financial year are ambitious and reflect our commitment to growth and innovation.
1. Achieve 25% year-on-year growth
This goal is ambitious but achievable with strategic planning and effective execution. We will focus on expanding our client base, optimising our operations, and exploring new growth opportunities. We are confident that we can achieve this goal with our team's dedication and hard work.
2. To be the most loved firm in our sector
We will focus on developing a deep understanding of our clients: their businesses, needs, and challenges. This will allow us to tailor our service to their specific needs and provide them with the best possible outcomes. We will also actively seek feedback from our clients, which will allow us to continually improve our services and better meet their needs.
3. To be the place people want to work
We recognise that creating a positive and supportive work culture is essential for employee satisfaction and well-being. We will focus on creating a workplace where employees feel valued, supported, and motivated. By investing in our employee's development and well-being, we are confident that we can become the place where people want to work.
4. To be a leader in AI across all our services
AI is transforming the business landscape, and we are committed to staying at the forefront of this transformation. We are investing heavily in research and development to develop innovative AI solutions for our clients. We also seek out industry events focused on the AI revolution and how it impacts our industry. By continuously improving our AI capabilities and integrating them into all our services, we are confident that we can become a leader in AI across all our services.
Training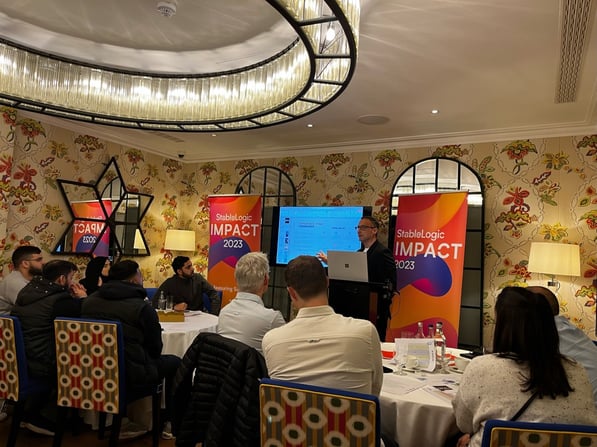 IMPACT was not just about goal-setting. We also had training sessions in the afternoon, led by the heads of Consultancy, Project Management and StableLogic Labs. These sessions provided insight into how each department operates, enabling team members to think critically, solve complex problems, and practice decision-making in leadership.
The interactive sessions fostered a deeper understanding of our operations and encouraged cross-functional collaboration, which is crucial for achieving our set goals.
IMPACT 2023
In conclusion, our IMPACT 2023 event was a fantastic demonstration of our commitment to growth, innovation, and employee satisfaction. We are well-positioned to achieve our ambitious goals, and IMPACT has set the tone for the upcoming financial year. We are excited to see the progress that we make and the impact that we create in the coming months.
Want to learn more about how we can transform your business? Get in touch using the button below.