When it comes to bespoke vs off-the-shelf software, it can be difficult to understand which will enable greater success for your business. In this blog, we explain the key differences that determine the correct path.
With each respectively suited to different businesses, the solution that is needed chiefly rests on the complexity of problems at hand. Let's go through a couple of examples of solutions and how they might change depending on the use case, to illuminate how you might consider the best route for your business.
Example One: CRM Tool
When so many businesses are subject to the same problems and fundamental processes, it's no surprise that key providers have emerged. They excel in their ability to streamline these essential functions, often through a smooth UX, simple setup and a competitive price.
When it comes to CRM, often businesses will find a great degree of overlap in terms of the basic CRM capabilities needed to operate effectively. For this reason, companies such as Salesforce and HubSpot hold their positions in the market. Features such as contact management and email automation will be essential to most people's day-to-day. Particularly for those with a relatively simple business model, it's more likely that this kind of solution will meet most of their needs.
Imagine a small bakery, serving a local customer base within a specific geographic location. They may collect some basic customer data and require communication tools for things like order updates and promotional opportunities. But overall, given the simple model, a custom solution would probably be overkill.
But what happens when you take a more complex business, with multi-national reach, a variety of technical services a more convoluted sales process?
The contact base will need greater segmentation, with the various regions, varying client types, partners and suppliers creating a far more complicated task. The sales funnel will involve multiple decision-makers, negotiation strategies and customised products. How is an off-the-shelf solution supposed to provide the customisation needed?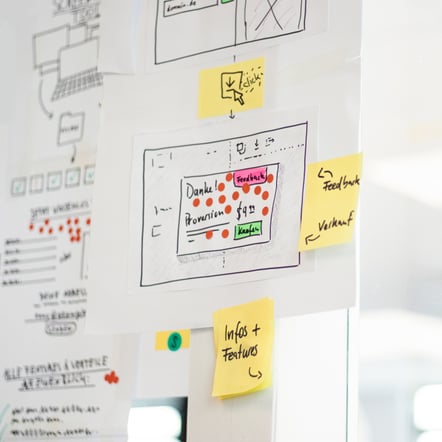 Complex and unique workflows may best managed with tools optimised for the job
Example Two: Project Management
Looking at another example of a business tool to determine bespoke software vs off-the-shelf, consider project management. Again, we can grasp how businesses of a greater complexity can benefit from solutions that are tailored to solving their specific needs.
For the simpler business, managing tasks does not require the same level of governance and contingent planning. Returning to our bakery example, taking orders, filling them, and marking them complete covers most of the tasks. While things like complaints or changes to orders might add a few complexities, these can be covered with a relatively basic interface.
But project management today can involve an extensive web of sub-tasks, interdependencies and agile methodologies. Tools often benefit from built-in APIs and plug-ins that can enhance the utility of other business tools. If the PM platform can integrate these tools, key data can be passed between them to better maximise efficiency in communication by providing a more centralised form of management. There are usually several different stakeholders whose own projects and workflows may be affected by changes in another's, meaning every update needs to be clear.
Imagine you're running a software development company, which manages a large team of developers working on tickets across several products. With diverse projects, tailored workflows are crucial. The platform integrates with existing tools, automates tasks, and provides role-based access. Custom reports offer insights, aiding data-driven decisions. Scalable and flexible, it adapts to changing requirements, growing alongside the company. This system enhances communication, minimises bottlenecks, and reduces delays, ultimately boosting productivity across development teams.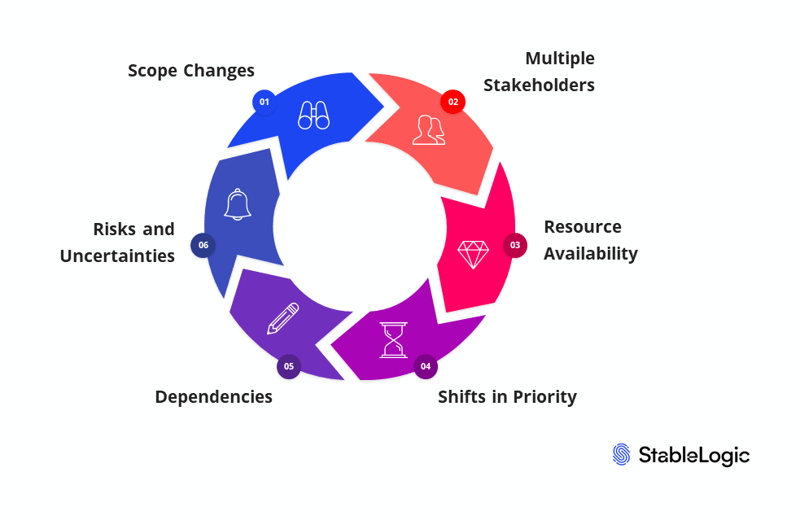 One-Upping the Competition with Bespoke Software
So, we've established when a custom IT solution is a better fit. But what are some of the other benefits that come with getting this solution perfected?
One key advantage when it comes to bespoke vs off-the-shelf software, relates to how you can set apart your business from your competitors.
Consider the fact that most of the business problems and day-to-day tasks of competitors will be shared with you. How efficiently you perform in these will be a defining part of your race against them. Moreover, going that bit further, and delivering something extra on top of what they are providing may also be the crucial difference you need.
With this in mind, would you prefer to be using the same tools that everyone else is using, or something that has been built with your specific problems in mind?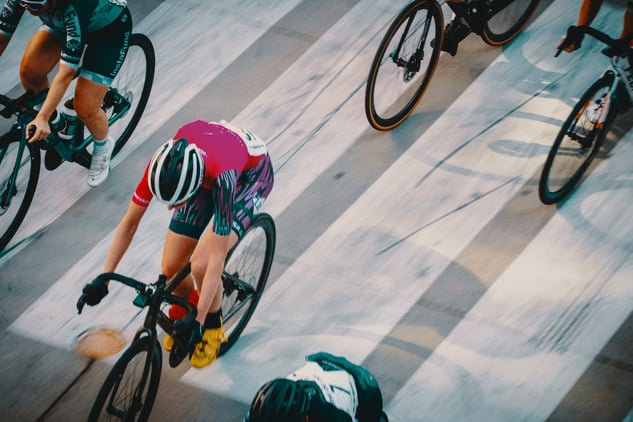 How are you ensuring your business is staying ahead of the competition?
Consider a financial advisory firm that manages investments and financial planning for high-net-worth individuals. The firm faces the challenge of handling complex portfolios, personalised investment strategies, and regulatory compliance.
This firm decided to invest in a custom-built CRM system tailored to their needs. The custom CRM system allows advisors to track individual clients' financial goals, risk tolerance, investment preferences, and historical performance. It also integrates with market data feeds and compliance tools.
As a result:
Personalised Client Service: Advisors can access detailed client profiles, enabling them to provide tailored investment advice that aligns with each client's unique financial objectives.

Compliance Management: The CRM system ensures that investment recommendations adhere to regulatory requirements, reducing the risk of legal issues.

Efficient Portfolio Management: The system helps advisors track investment performance, asset allocations, and rebalancing needs more effectively.
In comparison, another advisory firm uses a generic CRM software not specifically designed for financial services. While it can manage client data, it lacks the specialised features required for complex investment management and compliance tracking.
In this scenario, the custom CRM system sets the first firm apart from competitors. By providing a highly personalised and compliant approach to wealth management, the firm can attract and retain high-net-worth clients who value tailored financial advice.
Scalability and Flexibility of Bespoke Software
Finally, there is also the consideration of the future when it comes to the bespoke software vs off-the-shelf debate. Change is essential in business, and so when picking the right solution, while one might seem like the best idea at that moment, it's crucial to understand how this could be different with time.
Off-the-shelf solutions tend to be more rigid in their makeup. You can't add and remove features at your will so easily, meaning they're not well suited to a changing business model.
Say you decide to create another product or add an extensive new feature to an existing one. Managing the client data needed to do this might require new capabilities. With a custom-built solution, these can be added as necessary compared with being locked in by the limitations of an off-the-shelf.
Let's take a more real example and consider Tesla's manufacturing process. Rather than relying on the more generic third-party solutions, Tesla built a custom process that was created with the future in mind.
Unlike rivals, Tesla integrated its supply chain, crafted unique robotic systems, and built its own production tools. This vertical integration allowed precise manufacturing and flexibility. Their "Gigafactory" optimised vehicle and battery production for scalability and cost-efficiency. The approach enabled rapid scaling, reduced downtime, and enhanced quality control.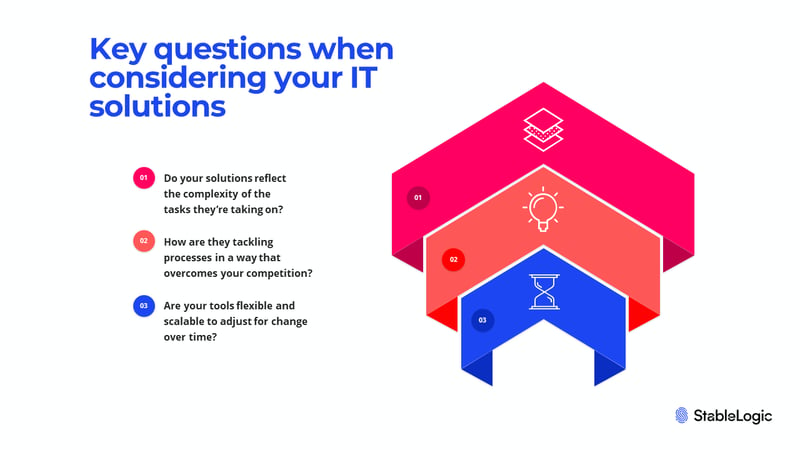 Wrapping Things Up
With our rich experience in understanding the technological issues faced by companies, we've had the pleasure of creating bespoke software that has contributed to significant success for businesses.
Market-leading brand Pioneer DJ's owner, AlphaTheta, was struggling with outdated software used to manage the delivery of replacement parts and services to their customers. Serving customers across several global locations, they needed to achieve fast delivery while maintaining the expectation of quality and enjoyment of the services that their brand was known for.
Where off-the-shelf solutions lacked the level of control needed to meet these requirements, we at StableLogic Labs built them a 24/7 parts, delivery, warehouse and service application worthy of their brand's commitment to quality execution. By improving customer experience and delivering a fast and cost-effective service, we provided them with a flexible solution that could comfortably take them to continued business success.
Gain a Technological Edge with StableLogic Labs
Chat with our team today to build a solution that will give you a one-up on your competition.
Please fill in your information and we'll get in touch with you.