As the new year approaches, there's a lot of emerging trends that will impact how businesses undertake a digital transformation in 2020. Below are five of our key trends that will impact the digital transformation space in 2020.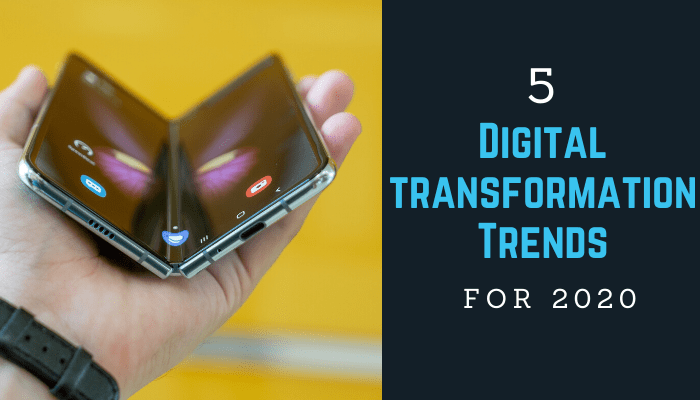 1. 5G
After a long wait, 5G is likely to be the biggest trend in digital transformation for 2020. It is expected to hit the ground running in 2020 with many mobile providers and carriers like AT&T, Verizon, Nokia, Ericsson and Huawei already selling services ready for the changeover. In addition to bringing us all faster broadband speeds and more reliable mobile networks, the adoption of 5G will also accelerate growth in smart manufacturing and many other areas of everyday business. Basically, the true value of 5G simply won't be limited to phones. 5G is expected to impact nearly every industry that touches our daily lives. There is no doubt that 5G will be the big gamechanger for 2020 in the digital transformation space.
2. WiFi 6
While not as big of a gamechanger as 5G, WiFi 6 offers significant potential for businesses. The real value of WiFi 6 will be its ability to extend faster data speeds to far more devices than WiFi 5 was able to manage. It's expected to make bandwidth issues a thing of the past, letting more bandwidth-intensive devices to run through one router without impacting speeds. As the quality and volume of data consumed through WiFi networks are both readily increasing, WiFi 6 will eliminate these pain points beginning in 2020.
3. Privacy
The successful adoption of GDPR plus the impact of social media and the use of consumer data in political elections has made privacy a key trend for 2020. While privacy has always been important, it's become a much more prominent issue for consumers in recent times. Consequently, it is expected that businesses will take actual efforts and make changes to address this issue. This is not only essential for easing customers privacy concerns but can also create a competitive advantage. Customers want to purchase goods and services from businesses that they can trust to respect their privacy. It's expected that the security market will also heavily invest in developing new technologies including those for facial recognition and in other areas of biometrics to help verify the identity of individuals but also keep them secure and safe.
4. Analytics
Investment in data analytics should have always been a necessity for a business. You can't make the right move without the proper data to back up your strategy. In 2020, it's expected that lower cost analytics solutions emerging within the marketplace will make it much more affordable for businesses to track customer sentiment and collect vital data. Thus, with so much data now readily available for companies to process, it's hard to imagine a business that ignores analytics lasting until 2021.
5. Chatbots 2.0
Chatbots are expected to advance in 2020 to be more conversational. It's likely that 2020 will see chatbots provide a more personal experience as their algorithms process more data and AI technology becomes stronger. Today's level of natural language processing is good but not great, and in 2020, it's expected that bots will act more like humans in how they converse and pick up on topics. Thus, providing a more realistic consumer experience.
Is your business considering undertaking a digital transformation in 2020?
Deliver value on time, reduce project risks, and improve communications processes with digital transformation consultants who don't take months to hire. Fortune 500 companies trust StableLogic for expertly matched consultants, exactly when they need them.
If you would like to speak directly to one of our consultants, please call tel: +44 (0) 20 3861 6444 or email info@stablelogic.com.